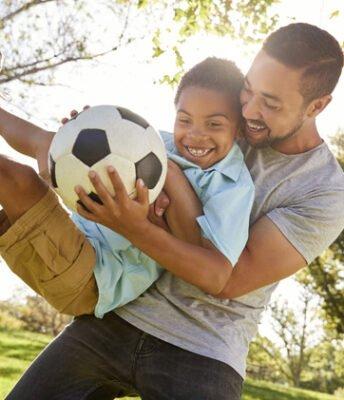 As a parent, the last thing you want to hear is that your child has received a brain injury. Even though you've done everything you could to protect the one you love, accidents happen. Turn to Radius TBI for the most advanced diagnostic and treatment methods for concussions and other mild brain injury with quality, compassionate care.
Our multidisciplinary team of neurologists, psychologists, and physical therapists treat pediatric concussion patients injured from:
Car accidents
Bicycle or tricycle accidents
Football, soccer, cheerleading, and other sports
Unintentionally being hit by an object such as a baseball
Falling down stairs, off bunk beds, etc.
Assault or physical force
What Should I Do if I Think My Child May Have a Concussion?
Though the common signs of a concussion such as unconsciousness and headache are what immediately come to mind, there are many more indicators of brain damage to watch for after your child sustains a head injury.
If you notice symptoms such as emotional or mental changes, difficulty falling asleep and/or staying asleep, mood swings, or attention deficit after a head injury, it is important to have your child undergo a comprehensive neurological exam.
As one of Florida's only practices that exclusively specializes in concussions and mild traumatic brain injuries, Radius TBI offers on-site state-of-the-art equipment to detect even the mildest of injuries so we can take appropriate treatment actions.
Childhood Concussion / Brain Injury Facts
Traumatic brain injury (TBI) is the leading cause of disability and death in American children and adolescents. Those at the most risk are age 0-4 and 15-19.
Over 560,000 children under age 19 are treated in the ER for concussions and other brain injuries and then released, often receiving no further care.
The effects may take decades to emerge, and the cause of delayed symptoms may never be identified as occurring from a concussion without immediate intervention.
The younger a child is when sustaining a brain injury, the greater possibility there is for long-term developmental issues.
Symptoms that often go unnoticed include losing interest in movies or other things that were previously favored, using immature language, and having difficulty expressing thoughts and emotions.
About 21% of traumatic brain injuries occur from sports and recreational activities.
Concussions can occur from injury to the neck and other places on the body, not just the head.
Girls are at a greater risk for TBI than boys.
From 2002 to 2006, there was a 62% increase in concussions and traumatic brain injuries treated in emergency rooms from falls in children under 15.
For Coaches
We understand the health of your players is your utmost concern. Before your team ever takes the field, we offer pre-season baseline testing to assess cognitive function and balance. After one of your team members sustains a head injury, our Neurologist and TBI team review screening results to determine the extent of the injury and decide whether a return to play is appropriate, as well as the extent and length of treatment.
For your convenience, we offer in-school evaluations as well as classroom education. Our extensive skills and experience treating traumatic brain injury in pediatric patients allows us to help children and teens understand the importance of prevention and learn observable physical and mental signs of an untreated concussion.