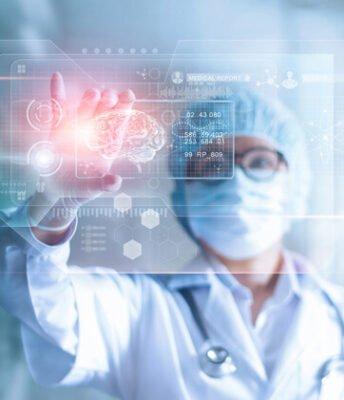 When it comes to concussions and mild TBI, only the best treatment and care will do for your patients. Radius TBI defines excellence in traumatic brain injury care with state-of-the-art diagnostic methods and innovative treatment options.
Physicians unsure of where to turn for help in treating mild TBI patients can trust our experience in relieving symptoms to improve quality of life when it seems all has been lost after a brain injury.
Should My Patient Be Treated for Mild TBI?
"I just don't feel like myself anymore and I can't figure out why."
If you have ever heard this from a patient after a car accident, sports injury, or other traumatic experience in which they sustained a head injury, there are likely neurological symptoms present that requires treatment.
Our interactive tool can help determine if your patient should be referred for our services, including advanced diagnostic methods to detect brain injury as well as integrative treatment options such as cognitive rehabilitation and Neurofeedback and Management of chronic pain and headaches emphasizing the biopsychosocial approach. Other treatment options include psychotherapy, CBT, mindfulness, acupuncture, vestibular/balance rehab and ocular motor vision therapy.
When diagnosing mild TBI, or concussion, please refer your patients to Radius TBI for a comprehensive neurological evaluation if you detect the presence of any of the following symptoms:
Physical
Neck pain
Headaches, pressure in the head
Blurred vision
Noise and/or light sensitivity
Dizziness
Cognitive
Difficulty remembering and/or concentrating
"Brain fog"
Emotional
Mood swings
Behavioral changes
Sleep
Fatigue
Problems sleeping
Why Refer Concussion Patients?
Even after obvious brain injury symptoms disappear, there are lasting effects of untreated or undertreated concussions. Left untreated, mild TBI can lead to irritability, sadness, nervousness, and anxiety as well as more severe mental illnesses.
Our evaluations and treatments are designed to give us a complete understanding of your patient's condition and allow us to reduce or eliminate symptoms, improving quality of life. Our multidisciplinary team is made up of neurologists, psychologists, and physical therapists dedicated to optimum patient outcomes for your patients so they can feel like themselves again.
Rest assured your concussion patients will be given the same level of care we would extend to our own families. So, please do not hesitate to call or contact us online should you want to discuss a particular patient before referring them to us.